How to Pick the Right WiFi Router to Improve WiFi Speed
By Carrie Tsai, Last Updated: April 01, 2020HOW TO
In the modern age where network technology has been highly developing, staying connected has been an indispensable aspect of life. The groundbreaking growth of wireless network technology has even made the WiFi router which is the gatekeeper to wireless connection available to the public. Nowadays, WiFi routers are almost everywhere and are being used by almost everyone in daily life to keep connected to the Internet.
Nevertheless, in the current market, more and more updated WiFi routers emerge and develop, leading to a noticeable variety of capability as well as features. Also, there are many common purchase misconceptions existing in the market. Many people have bought their ones with ultra-fast WiFi speed but still, find that the actual Internet speed is very slow. It can be easily seen that choosing the right WiFi router is not easy.
Indeed, it's quite confusing when shopping for your WiFi routers. But don't be fretful. Here comes the article which will point out some common purchase misconceptions for you to avoid and then will guide you on how to pick your right WiFi router. Keep your reading.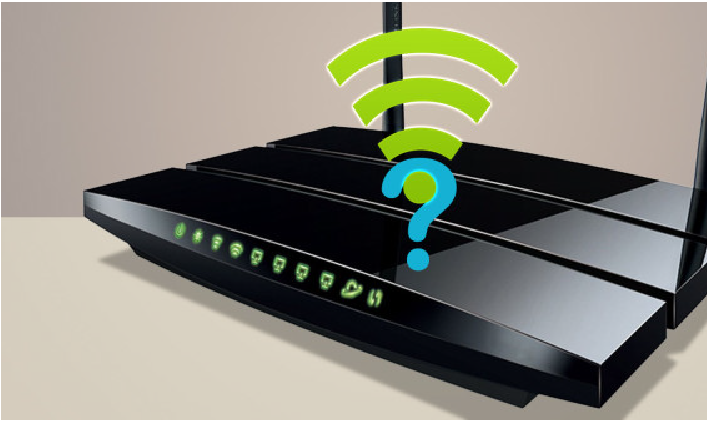 Also Read:
What is MiFi and How To Use MiFi Hotspot?
How to Keep Mobile Data of Your Smartphone from Sneaking?
MediaTek Complete the 5G Multimode Modem Chip Helio M70
CONTENTS
Part 1. What Is A WiFi Router and How Does It Work
Having a clear picture of the WiFi router is helpful for you to know what to look for in selecting one which can access your specific needs. So let's explore it first.
What Is A WiFi Router
A WiFi router, also known as a wireless router, is a small electronic hardware device that acts as a gatekeeper to connect the Internet network to the WiFi-enabled devices with no cable from the router to the devices. The WiFi router is a combination of an access point, a switch as well as a router, which offers a convenient method for users to easily and quickly connect both wired and wireless devices to the Internet as well as sharing the Internet.
Compared with a wired router, the significant advantages of the WiFi router lie in the wireless connection to the WiFi-connected devices, more devices connection capability as well as additional security functionality such as a firewall.
How Does A WiFi Router Work
A WiFi router works by connecting itself to the cable line to get the data from the ISP (Internet Service Provider) and then sending the data in the form of radio signals to the WiFi-connected devices. That being said, it's the router that receives the data from the ISP, decodes and converts them into radio signals and then sends these radio signals within its range. These signals are detected and picked up by the devices nearby within seconds, eventually leading to the available Internet connection to these devices.
The Basic External Components of A WiFi Router
The major external components of a WiFi router are always located in the back of it. There are 4 main components whose functions are indifference respectively including the Power button, the Reset button, the WAN port as well as LAN port. Now let's have a picture of their roles.
* Power Button
Just as the term suggests, the Power button acts as a trigger to power on/off the WiFi router. A simple click on it can enable you to enjoy all the benefits the router brings.
* Reset Button
Similarly, like the normal meaning of reset, a reset button on a WiFi router is to restore the factory settings. If there are any breakdowns of your WiFi router, you can tap this button to reset.
* WAN Port VS LAN Port
These two kinds of ports which are the important parts of a WiFi router are always difficult to be clearly recognized. However, there are some differences between them.
| | | |
| --- | --- | --- |
| | WAN Port | LAN Port |
| Form | Wide Area Network Port | Local Area Network Port |
| Purpose | A WAN port is used to connect to the external network like the internet. | A LAN port is applied to connect to devices like computers, phones, and TV, etc. |
| Amount | Usually, routers all have several ones. | Most routers only have one. |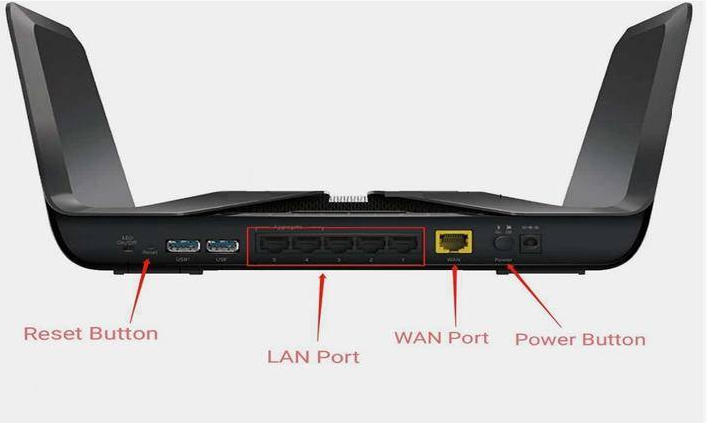 Part 2. Common Purchase Misconceptions of WiFi Routers
Since there are diversified types of WiFi routers in the market, it's hard to choose the proper one. Also, the common misconceptions of WiFi routers also mislead more and more people to buy their wrong ones. In order to help you select the right one to meet your specific needs, here comes the list of several common misconceptions. After knowing them, you're able to avoid them when shopping for your right WiFi router.
Misconception 1. A WiFi Router with Ultra-Fast Speed Can Definitely Improve WiFi Network Speed
The actual WiFi network speed isn't merely determined by the speed of the WiFi router. It's also affected by the Internet speed provided by the ISP. However, the truth is that nowadays the speeds of WiFi routers have far overtaken the internet speeds. Thus, even if your router has ultra-fast speed, it still cannot make the actual maximum speed of internet connection higher than the ISP speed which is slower.
For instance, if your ISP provides 30Mbps bandwidth, your WiFi router with the fast speed of 1Gbps will only work at 30Mbps. That being said, it's impractical to speed up the actual WiFi speed just by purchasing an expensive WiFi router delivering faster speed while the Internet speed provided by your ISP is much lower.
Misconception 2. Transmitting Speeds of the WAN Port and LAN Port Do Little Effect on Network Speed
It's the myth that the actual network speed isn't susceptible to the transmitting speeds of the WAN and LAN ports on the WiFi router. The truth is that the speeds of both the WAN port and the LAN port affect the maximum network speed.
For example, if your broadband is 1000M but your router's WAN port has only 100M speed, the actual WiFi speed as well as the LAN port speed won't be more than 100M. Similarly, if the WAN port speed is 1000M but the LAN port is only 100M, you can still gain no more than 100M network speed on your device.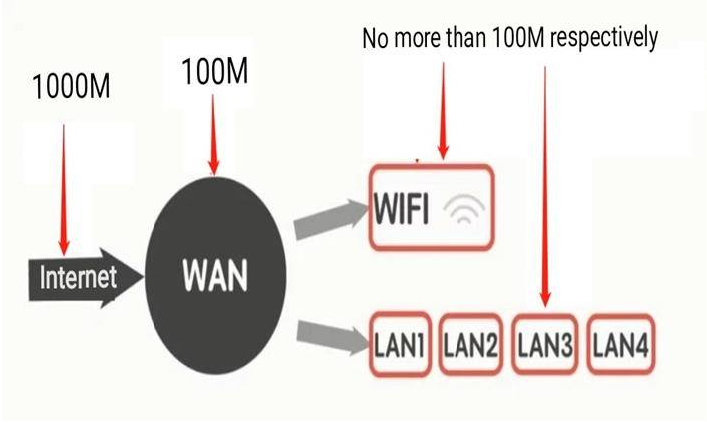 Misconception 3. The More the Antennas, the Stronger the Signal
When shopping for a WiFi router, many people choose to buy one with more antennas in order to increase signal strength. However, it's just a misconception. The truth is that the increase in the number of antennas cannot enhance signal strength, but increase signal channels. The signal strength rests entirely with the transmitting power, not the number of antennas.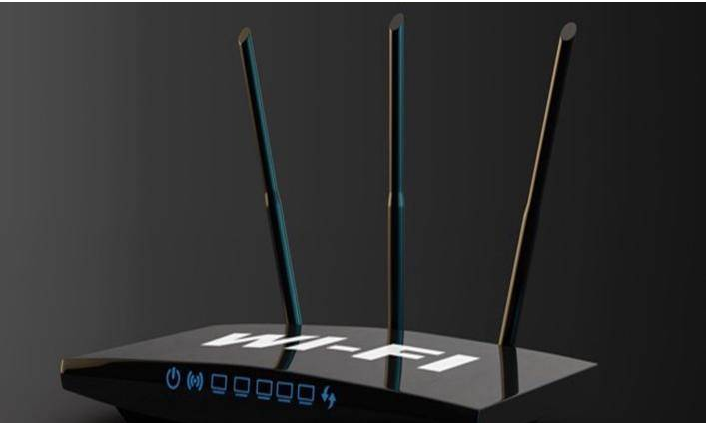 Misconception 4. 5 GHz WiFi is Always Better than 4 GHz WiFi
WiFi can work on two different bands of radio frequency including 5 GHz and 2.4 GHz. Due to the usage of shorter radio waves, 5 GHz WiFi is the newer technology with faster WiFi speed, less-congested capability, and less-latency features. However, it's not always better than 2.4 GHz.
The shorter radio waves 5 GHz WiFi use make it cover less range and less capable of penetrating through solid objects like walls. That being said, compared with 5 GHz, the 2.4 GHz WiFi covers larger areas and is better at getting through solid objects.
Part 3. Suggestions on How to Pick the Right WiFi Router
Now you must be able to avoid the common purchase misconceptions of Wifi routers. When shopping for a WiFi router, it's important to know what to look for in picking the right one which can access your specific needs. The following are some suggestions on how to choose your right WiFi router.
* Consider the Top Speed of Your Internet
Before deciding to buy a WiFi router, you need to figure out the top speed of your Internet provided by your ISP. This is because the Internet speed has a limitation to the WiFi speed. Even if you buy an expensive router delivering ultra-fast speed say 1Gbps, if your Internet speed is much lower say 25Mbps, the actual WiFi speed is only limited to the Internet's top speed 25Mbps.
Therefore, to improve and maximize WiFi speed, it's advisable to buy a router whose speed is almost as fast as the Internet speed that your ISP provides. That is, you don't have to pay much more for one with much higher speed. You can just buy a router at a normal price and still gain the optimal WiFi speed.
* Take Account of the Speeds of WAN and LAN port
As mentioned earlier, the speeds of both the WAN and LAN ports have an effect on the WiFi speed. Thus, when shopping for a router, it's necessary to check the product details to know if the speeds of the ports can support the Internet speed provided by your ISP.
* Consider 5 GHz or 2.4 GHz or Both
As mentioned earlier, the 5 GHz WiFi radio has the features of faster speed, more stability as well as less latency. But it covers less range and is less capable of getting through walls than 4 GHz. Thus, if you need to use the WiFi in a wider range, it's more appropriate to pick a router with 2.4 GHz radio for keeping stronger signals. However, if you just want to use WiFi in a closed area, you can choose one with 5 GHz radio to improve WiFi speed.
You can also choose to buy a WiFi router with dual-band. Dual-band supports operating separate WiFi network on the 5 GHz and 2.4 GHz radios. It allows switching frequency radios automatically according to the different use of scenarios.
* Determine the Coverage Range
Before buying a WiFi router, you need to get an idea of how much range you want the router to cover. If you have a small area to cover, you can just buy a router that supports short-distance signal coverage. Instead, if there is a large range to cover, consider a long-range router.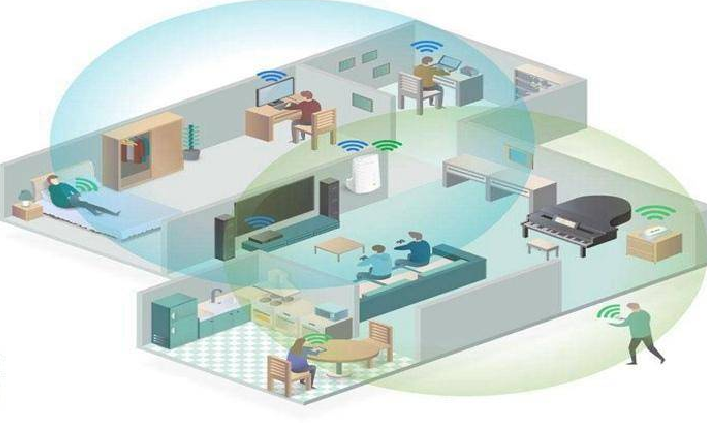 * Figure out the Usability
There are two major types of WiFi routers including the older types and the mobile smart ones. The older types of WiFi routers which are applied for home use and office applications give access to their settings by typing the router's IP address into a web browser. That means you have to remember the password as well as staying at home or office when managing the network.
However, mobile WiFi routers (MiFi) allow you to directly get access to the WiFi network, share the Internet and manage them anywhere with no cable line from the router to the Internet provided by your ISP. The reason why they can be used carriable and portably lies in their built-in modems enabling them to get access to the wireless signal. Also, they support Internet connection sharing among up to 10 users and WiFi-enabled devices by converting the 4G signal to a WiFi signal.
Compared with the older types, the mobile WiFi routers are more convenient to use since they are small, carriable and portable. Nevertheless, you should choose a WiFi router based on your specific purpose. If you want to buy one for office use, then an older type is enough. But if you want to pick one for home use or for carriable use, a mobile Wifi router is more suitable for you.
Our Recommendation of MiFi for Portable Use - MF925
If you are searching for a mobile WiFi router, then MF925 which is professional and cost-effective is definitely your good choice. With the exquisite and enhanced built-in modem, our MF925 allows you to wirelessly get access to the Internet anytime and anywhere. The small and exquisite design also makes it the pocket WiFi which is easy to carry and operate.
With up to 150Mbps WiFi speed and strong WiFi coverage, it guarantees you a reliable connection. With a built-in large battery capacity of 2000mAh as well as low power consumption, our MF925 allows you to constantly use it in 5-8 hours.
* Consider Your Budget
Figuring out how much you're capable of paying can help eliminate the expensive routers from your list. It's advisable to select one within your budget while still good in reliability and performance.
Pick Your Right WiFi Router
In short, before shopping for a WiFi router, it's advisable to have a clear picture of it. Then you need to avoid the common purchase misconceptions. When picking one, you should consider all the factors including speed ratings, extendability, usability as well as your budget. Hope you can pick your right router to improve WiFi speed.