Why Qualcomm Quick Charge 5 So Special and What Devices Use it?
By Carrie Tsai, Last Updated: August 08, 2020INDUSTRY
If you are asked to choose a "you can't go back" technology, the quick charge will come into your mind and must rank in the top few. From last year to now, there is increasing popularity among manufacturers regarding fast charge production and technology. You would find out that fast charging technologies of 65W, 100W, and even 120W have emerged one after another under the market need.
Under the current craze of quick charge technology, Qualcomm announced the launch of its Quick Charge 5 (referred to as QC 5.0) charging solution that offers support for 100W of power and above. In terms of speed, Qualcomm boasts that Quick Charge 5 can power up a 4,500mAh battery to 50% in just 5 minutes. Pay attention that we are talking by mere minutes here.
Well, then what devices support Qualcomm's quick charge, and how fast can it be? Will it damage the battery? Let us find it out today.
You May Also Take Interest in:
GaN VS Normal Battery Charger: See How They Differ
Competition of New Phones in the second half of 2020 is on
Quick Charge 5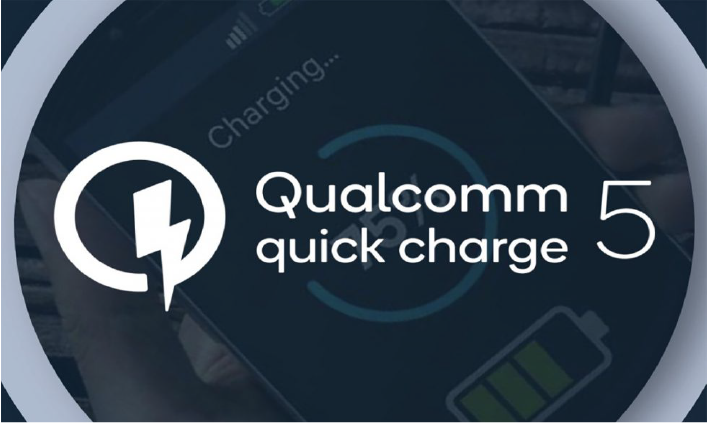 As introduced by its official website, Quick Charge 5 is the world's fastest commercial charging Solution delivering astonishing charging speeds of up to 0-50% in five minutes while enabling new battery technology, accessories, and safety features, which should also be well-acknowledged by the market.
At least, In terms of speed, Qualcomm's Quick Charge 5 can power up a 4,500mAh battery to 50% in just 5 minutes with its new Dual Charge technology and will reach full in less than 15 minutes. That is a tad faster than Oppo's 125W solution. Referring to efficiency, Qualcomm acclaims that charge smartphones and devices up to 10 degrees C cooler, up to 4X faster, and up to 70% more efficiently than with previous solutions.
For some who worried about the compatibility, you can rest assure when Quick Charge 5 is backward compatible with previous generations of Quick Charge while addressing future Android requirements.
Which is to say, just like Quick Charge 4 and 4 Plus, version 5 also works with the iPhone 7 or newer and other USB Power Delivery smartphones. Likewise, Quick Charge 5 smartphones work with all previous generation Quick Charge accessories, but speeds are limited to their older capabilities. That means you won't need to run out to buy new power accessories unless you want the very fastest speeds.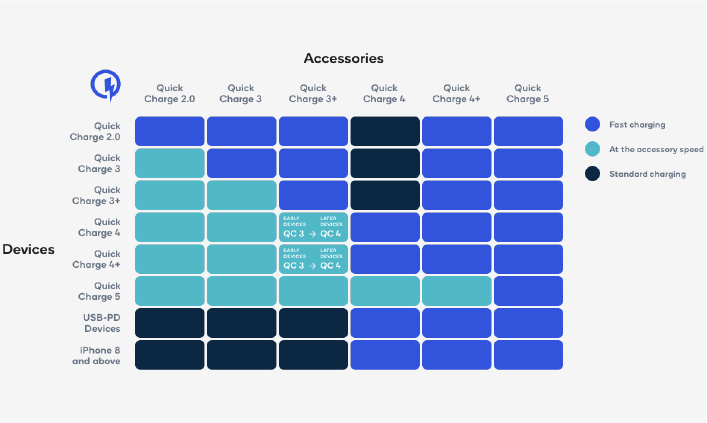 Compatible Quick Charge Devices
Here we would list out the devices supporting the new standard as accords with the mobile platform that it featured.
First, it would be devices that feature a Snapdragon 865 5G Mobile Platform, like Samsung Galaxy S20 5G. Next is about Carrier Aggregation (4x4 MIMO, 256-QAM, LAA, 600 MHz B71), devices like LG. Quick Charge 5 is also compatible with Nokia 8 featuring a Snapdragon 835 Mobile Platform.
Well, you must have heard about Samsung Galaxy S20 5G, but may feel really confused about" Snapdragon 865". Considering that, you might need a review about the previous article published introducing the difference between Qualcomm Snapdragon 845 to Qualcomm Snapdragon 835 for your better understanding about Snapdragon.
Besides, wall charges, car charges as well as Power Banks are all compatible as quick-charge accessories, offering you a handful of choice and convenience.
Speaking of battery chargers, previously we have also made a comparison of GaN and Normal battery chargers.
As well-acknowledged that more and more GaN chargers are bursting, many people would like to know the difference between the traditional and normal battery chargers. Indeed, as a kind of brand-new charging gadget, the GaN charger will inevitably be compared to the normal battery charger which has been regularly the best solution for power charging for years.
This article has explored how the two types of battery chargers differ as well as pointing out whether the GaN battery charger can replace the normal one currently.
Effect on Battery Life
To me, there should be little chance of no harm for the battery, no matter it is quick charge devices or even the wireless cell phone chargers. Points with prove has been provided in our earlier published articles, you can know more.
There is no denying that faster charging would bring users to batter experience, while we're still not sure on how 100W or greater wattages will impact battery longevity, although Qualcomm acclaims that Quick Charge devices will retain 80% or more of their battery capacity after 800 charge cycles.
Regarding the effect on battery longevity, Qualcomm also stated its solution has an almost immeasurable — "maybe just 1%" — impact on battery capacity over time as these batteries are built specifically with higher charge rates in mind and are more robust. Furthermore, Quick Charge 5 allows device or battery manufacturers to use their own power management algorithms to help prolong battery life.