Screen
Screen display allows users to interact with the cell phone. It's the key hardware of a mobile phone. Also, there are a variety of display types used on phones, like LCD, AMOLED, Super AMOLED and more. Without screen, it's like a person without hands and feet, so users cannot tap and use any apps or programs on a handset.
Components of Screen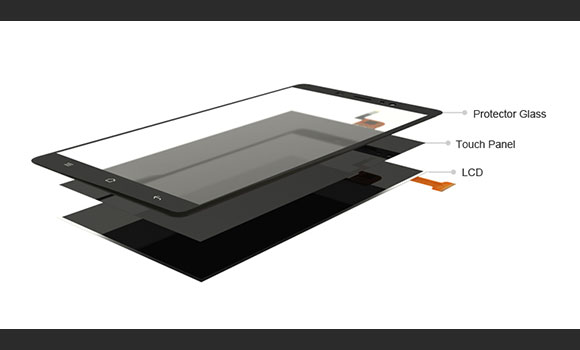 LCD (Liquid Crystal Display)
LCD is a flat-panel display making use of the light-modulating properties of liquid crystals sandwiched between two transparent electrodes. It is applied on most electronic devices. LCD panel is made of pixels, which is controllable to be showed or hidden. That's how we view colorful images on a mobile phone.
Touch Panel
Touch panel, also referred to touchscreen, is a key feature on a mobile phone. Generally, it is a source of input and output devices layered on the top of an electronic visual display of an information processing system. Touch panel contains a variety of technologies for sensing the touch of a finger or stylus. It's the primary hardware that allows users to make instructions on handsets.
Protection Glass
Protection Glass is a glass placed above touch panel and LCD for securing them from being damaged and broken. The thickness of a protection glass is between 0.5 mm and 2.0 mm. It's worth mentioning that it's different from screen protector, for it's embedded in the device.