Camera
The quality of a camera depends on many elements like resolution, and lens focus type. Most phones includes cameras with different lenses. Technically, the most common ones are Fixed Focus, Auto Focus and Optical Image Stabilization (OIS). Optical Image Stabilization is more advanced one which promises less blurry images and smoother video. With different lens, it feels different when you're using cell phones.
Three Main Camera Lenses
Most handsets have built-in cameras with these three kinds of lenses, which respectively are Fixed Focus, Auto Focus and Optical Image Stabilization with latter one being more advance than the former one.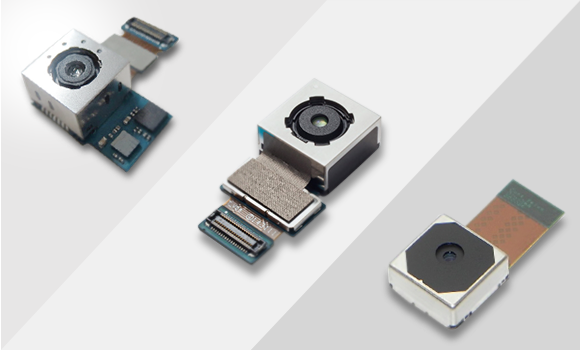 Components of A Phone Camera

Camera Lens
A camera lens is an/multiple optical lens(es) built-in a camera body, creating images/videos of still/dynamic objects. It's able to collect lights and project an image on imaging medium surface.

Photographic Filter
A photographic filter is a camera accessory including an optical filter able to be inserted into the optical path, which is commonly of a square/oblong shape and mounted in a holder accessory as a glass or plastic disk in a metal or plastic ring frame, which can be screwed into the front of or clipped onto the camera lens.

Imaging Sensor
An imaging sensor converts the variable attenuation of light waves into signals. It can detect and convey the information that makes an image.

Focus Motors
Focus motors is used to achieve automatic focusing by keeping dynamic object still. This mechanism is applied on autofocus lens.

Circuit Baseplate
Circuit baseplate is used to spread the signal from imaging sensor to rear end, keeping the whole process running.
Pixels Knowledge
A pixel is a physical point in a raster image in digital imaging. It's the smallest addressable element in a display device. The more pixels on the imaging sensor, the richer details can an image display for users. There are lots of mobile phone cameras of different pixels on the market: 0.3M (megapixel), 1.0M, 2.0M, 5M, 8M, 13M, 16M, etc..
Aperture Knowledge
In optics, an aperture is a hole or an opening through which light travels that is adjusted to control the amount of light reaching the image sensor. It influences on the appearance of an object projected in the image plane. The lens aperture is usually specified as an f-number, the ratio of focal length to effective aperture diameter. A lens typically has a set of marked "f-stops" that the f-number can be set to. A lower f-number denotes a greater aperture opening which allows more light to reach the film or image sensor.
Top Camera Manufacturer
What a camera is to a cell phone, that eyes are to human beings. Thanks to camera, a mobile phone can record precious moments in life. Since it's of importance, there are many camera manufacturers worldwide who dedicate to making better and more advance cameras. Here is a list of top camera manufacturer in which you might be interested.