Full Instructions: How to Use TWS Bluetooth Earbuds
By Carrie Tsai, Last Updated: March 10, 2020
As the market of Bluetooth earphones has been developing fleetly, more and more types of Bluetooth earphones have arisen continuously and have become appealing. Among all the types, TWS Bluetooth earbuds are most conspicuous for that they have been the must-have audio embellishment for the vast majority of the public. Since Apple's AirPods were first launched back in 2016, the TWS earbuds are all the rage. More and more people choose to use TWS earphones instead of wired headphones with 3.5mm headphone jack.
However, what are TWS earbuds on earth? And if you already have one pair of them or attempt to purchase one pair, do you really know how to use them properly? If no, don't fret. This article will explore TWS earbuds for you as well as providing helpful user instructions for you to use them. Just keep your reading.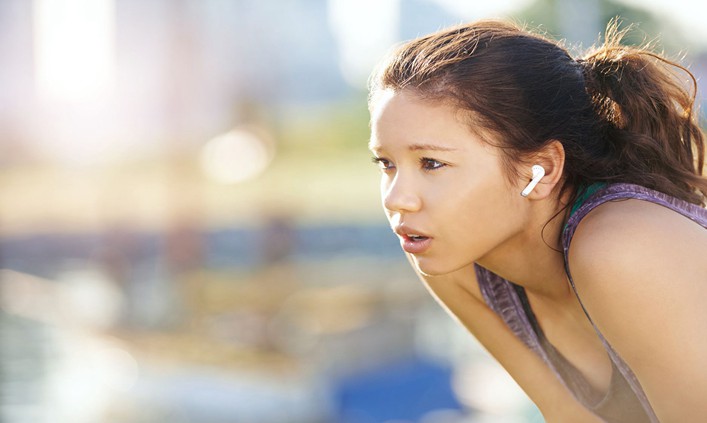 What Are TWS Bluetooth Earbuds
TWS, short for True Wireless Stereo, is a kind of technology on account of the growth of chip technology. Technically speaking, this TWS technology means that a smartphone is connected to the main speaker, and then the connected main speaker is connected with the slave speaker via Bluetooth wireless mode connection, achieving real Bluetooth wireless separation of left and right channels. When there is no connection from the speaker, the main speaker gets back to the monophonic sound quality. This technology is realized in virtue of the development of dual-mode Bluetooth modules. Now, TWS technology has been utilized in the realm of Bluetooth earphones, bringing the so-called "TWS Bluetooth earbuds".
Compared with wired headphones and even common wireless earphones, the most noticeable difference of TWS earbuds is that they are designed without any wires. Unlike wired earphones with wires, the tangle-free TWS earbuds have independently-individual left as well as right earbuds which can pair to each other automatically nearby. By matching successfully, the left and the right earbuds can switch to double-mode channel stereo, bringing you excellent sound quality. Moreover, unlike wired earphones which rely on the power from the mobile devices they are linked to, the TWS earbuds can be charged on their own built-in lithium battery cases with high performance.
With Bluetooth connection, TWS earbuds can connect to your mobile device easily and fast. You're able to listen to music while driving or running or share your music with others by using TWS earbuds since the signal can be kept within 10 meters.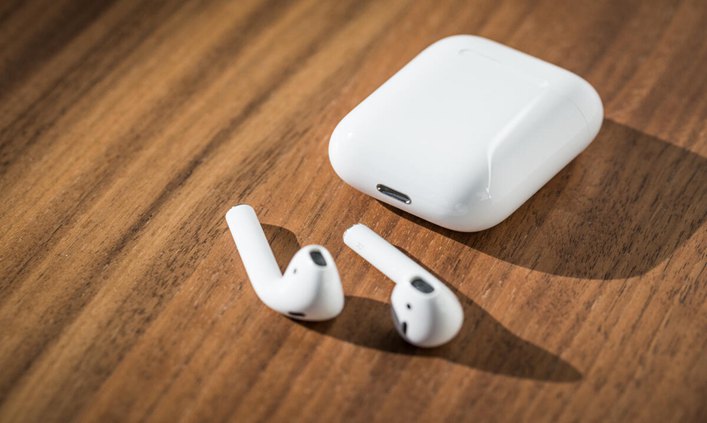 Make Sure Your TWS Earbuds and Your Smartphone Are in Full Charge
Prior to listening to the music by pairing your TWS Bluetooth earbuds to your phone, all you need to do is to make sure both of the devices are charged fully. This is because they are connect to each other via Bluetooth which can consume all the battery power of your devices easily. Therefore, check if your devices are in full charge. If aren't, you should fully charge them. To charge your smartphone, just simply connect it to a charging device via a charging cable.
To charge your TWS earbuds, you can:
Method 1. Charge via cables(If you have a cable with two connectors at one end and a USB plug at the other end)
Step 1: Plug the two connectors on one end of the cable into the earbuds respectively.
Step 2: Connect the USB connector on the other end of the cable to the charging device. When successfully charging, the red lights of the earbuds become on.
Step 3:Finish the charging when the color of the lights on the earbuds shifts (usually from red to blue) or when the lights stop flashing. This means that the earbuds are in full charge. Due to different brands of TWS earbuds, there will be difference in the indication of full charging.
Method 2. Charge via the charging case (Most common)
Step 1: Put the two TWS earbuds into the charging case.
Step 2: When charging, the indicators on the earbuds are in red color.
Step 3: You can finish the charging process when the red lights stop working.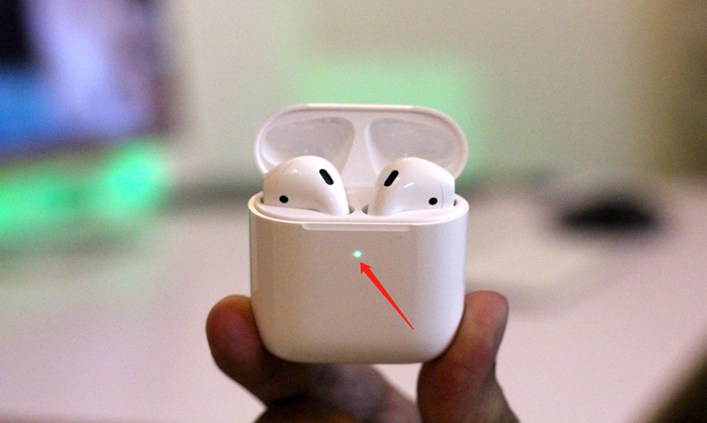 How to Pair TWS Earbuds to Your Smartphone
Now in order to use TWS earbuds to enjoy the music, play the audios or make phone calls, you need to pair them to your smartphone first. That being said, you should set up the Bluetooth of them to make them pair with each other. For TWS earphones, the vast majority of them support both binanural and monaural pairing mode. Just follow the simple steps below for pairing:
To Pair with One TWS Earbud:
Step 1: Press and hold the multi-function button for a couple of minutes until the LED indicator light flashes in different colors alternately (usually red and blue alternately). Flashy light shows that the Bluetooth is switched on in your earbud and the pairing mode of the earbud is activated.
Step 2: Turn on the Bluetooth on your smartphone by going to Settings>Bluetooth.
Step 3: On the list of the Bluetooth devices in your smartphone, select the TWS earbuds (usually shown as Name+TWS). Then you would probably hear the voice saying "Connected" which means that the pairing is done successfully.
To Pair with Both Sides of Your TWS Earbuds:
Step 1: Long press the multi-function buttons on both of them simultaneously until the LED lights on both sides blink in different colors alternately (usually red-blue).
Step 2: Then press and hold either one button on one side to enter matching mode (Some TWS earbuds models may require double-click either button on either side). When successfully entering the pairing mode, you would hear the voice saying "Ready to pair". (Some brands of TWS earbuds have this voice function, while some may not have) .
Step 3: Switch on the Bluetooth on your smartphone. Then on the Bluetooth interface, select the identified TWS earbuds device. You're able to see the LED lights on the earbuds flash slightly in blue after the successful pairing.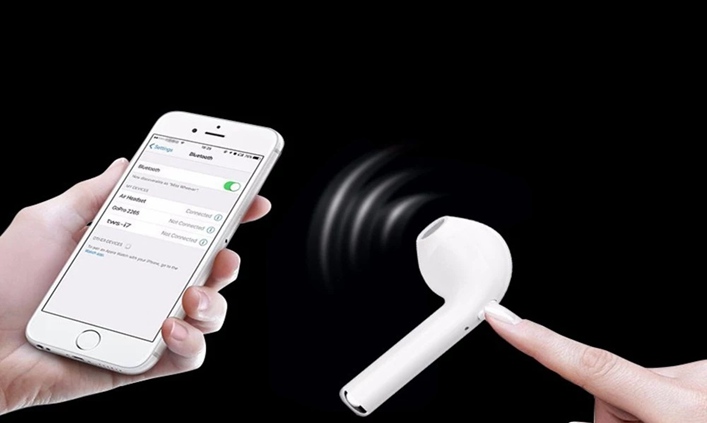 How to Play the Music/Make Phone Calls on Your TWS Earbuds
After successfully pairing the TWS earbuds to your smartphone, now you're able to enjoy the music or make phone calls on the tangle-free TWS earbuds as you want. TWS earbuds also support answering/rejecting incoming calls. Now just follow the instructions below to easily and quickly listen to the music and make phone calls on the earbuds.
To listen to the music, you need to:
Make sure the TWS earbuds have been already successfully connected to your smartphone. Then just shortly press the multi-function button on either side to play the music on the music list in your smartphone. Similarly, you're also able to pause/replay the music by simply pressing the button on either side.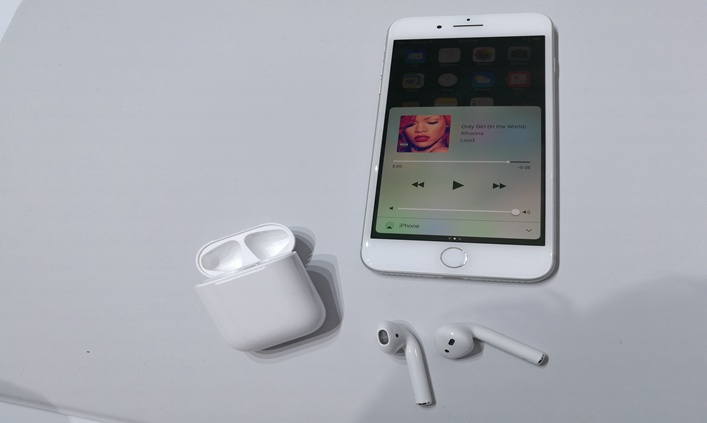 To make phone calls, you need to:
Similarly, make sure the connection of TWS earbuds with your mobile phone has been done. After that, dial the number on your smartphone and then you're able to make a phone call with others. To finish the call, just hang up the call by short pressing the multi-function button on either earbud.
To answer/reject incoming phone calls, you need to:
When an incoming call happens, you will hear a voice broadcasting the calling number from either earbud. To answer the call, just quick press the multi-function button on either earbud. If you want to reject the call, just simply press the button on either earbud until a voice promptly emerges saying that the call has been rejected.
Troubleshooting Tips & Helpful Rules For You to Better Use Your TWS Earbuds
When connecting your TWS earbuds to your smartphone or listening to music on earbuds, sometimes you may encounter some troublesome issues which may ruin your earbuds experience. Don't fret. The following are several troubleshooting tips as well as powerful rules for you to better use TWS earbuds.
Troubleshooting Tips:
* If you cannot hear sound from your TWS earbuds, try to do the following
Make sure your earbuds are in full charge and turned on. Also, ensure that they are successfully connected to your smartphone. Moreover, you should check that your earbuds are placed within 10 meters of your smartphone in order to gain stable Bluetooth signal.
* If your Earbuds fail to be connected, try to reset them
If your earbuds fail to be connected to your smartphone or cannot be connected to each other, try to reset them back to normal. All you need to do is to simply put your TWS earbuds into the charging case and then long press the setup button on the back of the case until the LED light flashes in several times. (Some TWS earbuds may need you to long press the buttons on both side earbuds at the same time).
Helpful Rules:
* Utilize the TWS earbuds within the working field (within 10 meters of the connected mobile device) to gain stable Bluetooth signal.
* Keep away from wet and heat.
* Do not overuse your TWS earbuds. Check their power usually. Charge them timely when they almost run out of power. * Keep away from high-frequency transmitting devices such as router to avoid signal break.
TWS Bluetooth Earbuds Are Worth Using
Nowadays the TWS Bluetooth earbuds have been the basic audio accessory for people who want to listen to music or make phone calls on the go. The reason why they are so appealing is obvious. After all, without any wires connection, these minimal earbuds bring both convenience and high audio performance to their users. Also, they almost have full-fit designs which make them be worn comfortably. With tangle-free design, the TWS earbuds also boast individual left and right Bluetooth-enabled channels as well as good sound quality.
In short, TWS earbuds are worth using. Also, they have been becoming more and more affordable with the fast development of the market. Anyway, now you must be clear about how to use TWS earbuds properly. So if you have one pair, just follow the above instructions to use them easily. If you still don't have one pair, it's recommended that you give them a try.