Apple AirPods Pro vs Huawei FreeBuds 3: Which Earbuds Are More Preferable?
By Carrie Tsai, Last Updated: February 24, 2020
Today, with the development of wireless earphones technology, true wireless stereo(TWS) earbuds are all the rage. More and bigger tech names have been rolling out their wireless earphones. Among all the wireless earbuds, the most popular ones should be Apple's AirPods series. Since AirPods were first unveiled and have been a knockout success in 2016, they have been upgraded to AirPods 2 and then to the latest noise-canceling AirPods Pro.
However, competition is everywhere. By being the bellwether to bring noise-canceling in an open-fit design, Android-powered Huawei's FreeBuds 3 have become the toughest opponent against Apple's AirPods Pro. Facing these two most powerful pairs of wireless earbuds, it must be difficult for you to pick the ones which are better to buy. Right? But don't worry. This article will make a deep comparison of these two kinds from many different aspects. Just read on.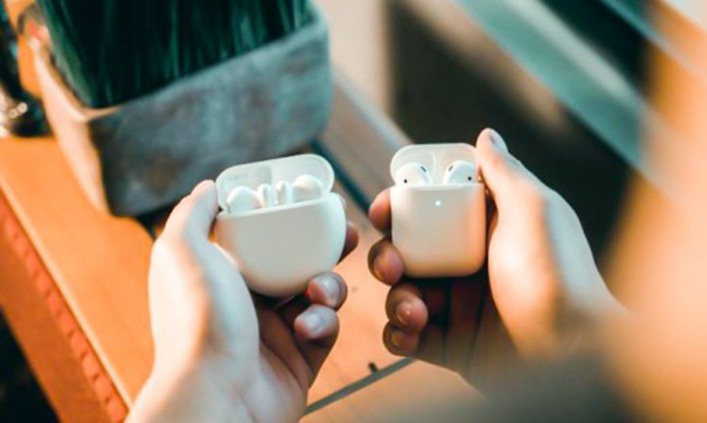 Design
Outlook design is the most obvious comparing factor you can start with. When it comes to the earbuds themselves, there is a noticeable difference in appearance between Apple's AirPods Pro and the Huawei's FreeBuds 3. The outlook of the FreeBuds 3 shows prolonged tips at the bottom of the earbuds that enter deeper into the ear canal, which is called "Dolphin Bionic Design". It's worth noting that this design has significant similarity to that of Apple's older AirPods 2 since they both use open-fit design which means they partly hang in your ears.
Instead, AirPods Pro doesn't remain the previous AirPods 2 appearance but make a huge upgrade to a brand-new full-in ear design with a much shorter exquisite canal looking. Compared to open-fit, this full-in ear design can fit much more tightly and comfortably on your ears.
Taking a look at the charging cases, you can also notice the difference. FreeBuds 3's charging case is circular-shaped which is novel among the current TWS earbuds in the market while AirPods Pro comes in a rectangular-shaped case. As to the carrying convenience, both pairs of them are easy-to-carry since they are both small and light-weight. It's worth noting that the AirPods Pro offers 3 different earbuds sizes for different ears, which accounts for a wider range of users.
Coloring is another difference you can find in appearance between AirPods Pro and FreeBuds 3. AirPods Pro remains the same white color as the older AirPods 2. However, Huawei FreeBuds 3 offers two colors for you including black and white.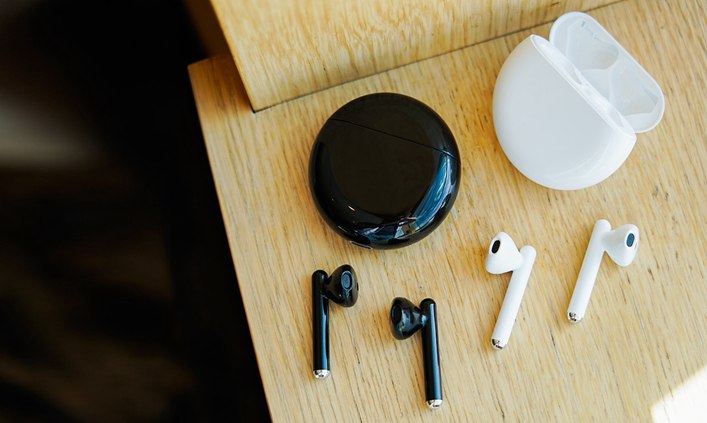 Active Noise Cancelling
ANC is a brand-new feature of TWS earbuds which can lessen external noise when you're listening to the audios. It is owned both by AirPods Pro and FreeBuds 3. So let's compare this touted feature of the two pairs of earbuds. It's rare to find active noise canceling features inside such a relatively open-fit design of FreeBuds 3. For Apple, it also added the new powerful feature ANC to AirPods Pro which isn't featured by the older AirPods 2. However, the difference is that the FreeBuds 3 don't do a better job with ANC than AirPods Pro, achieving less noise reduction. This is due to the open-fit design of the FreeBuds 3 which allows more external noise to leak in.
In addition, the AirPods Pro owns a transparency mode enabling you to hear what's going on around you. However, Freebuds 3 don't have one. This feature makes the AirPods Pro a bit more practical. In this way, if you stress emphasis on noise reduction, the AirPods Pro is the way to go.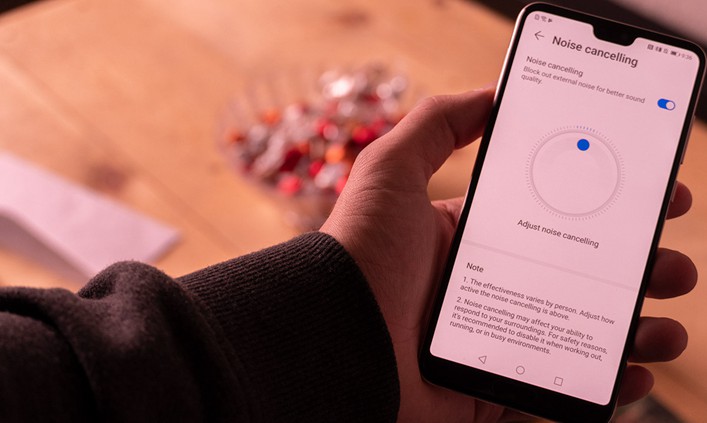 Sound Quality
Generally speaking, under the premise of owning an active noise cancellation feature, both the AirPods Pro and the FreeBuds 3 sound pretty good. However, they take different approaches for audio transmission, leading to the differentiation in sound quality. The main difference lies in the low-end frequencies. Due to the full-fit design, the AirPods Pro is more capable of keeping low-end frequencies sound in your ears rather than letting them out. Instead, the Huawei FreeBuds 3 is less capable in this respect because of the open-air fit design.
So which ones sound better? It seems that you can enjoy the sound with more excellent quality from the AirPods Pro. This is because even without ANC, the full ear tips of AirPods Pro can still account for better isolation from the outside while keeping low-frequencies sound compared to those of the FreeBuds 3.
Call Quality
In terms of call quality, you're able to make smooth and clear voice calls by using both of the two pairs of TWS earbuds. Nevertheless, there are different features leading to the difference in their call quality. Due to the H1 chip with a speech-detecting accelerometer, the Apple AirPods Pro is capable of filtrate noises from the outside, which allows for better focusing on your voice during calls.
The other pair of earbuds FreeBuds 3 features two powerful designs that can bring a crystal clearer voice during your calls. One is the unique bone sensor which is used to make your calls less susceptible to wind noise. This feature is achieved with the help of Huawei FreeBuds 3's Kirin A1 chip which is capable of voice detecting when you are talking via bone vibration. The other is the Aerodynamic Mic Duct design at the end of the arms. This duct design, like a windshield, can lessen wind noise, leading to clearer voice calls.
In this way, Huawei FreeBuds 3 outperform Apple's AirPods Pro. By using FreeBuds 3, you're able to make clearer voice calls.
Battery Life and Charging
As for battery life, the main body of AirPods Pro can let you listen to music for 4.5 hours for a single charge. Compared to the older AirPods 2 with 5 hours, its listening time is slightly shorter due to its new ANC feature. Nevertheless, you are able to achieve 24 hours of the total listening time with the charging case. As to Huawei's FreeBuds 3, the battery life is 4 hours on the earbuds at a single charge and 20 hours total with the case.
Another point that is worth highlighting is that both pairs of earbuds are capable of supporting fast wireless charging. You are able to wirelessly charge these two pairs of earbuds with just any Qi-wireless charger. For AirPods Pro, Apple keeps using its own Lightning connector for wireless charging. For FreeBuds 3, Huawei uses the Type-C connector.
Taken together, in this way, AirPods Pro has a better battery life than FreeBuds 3.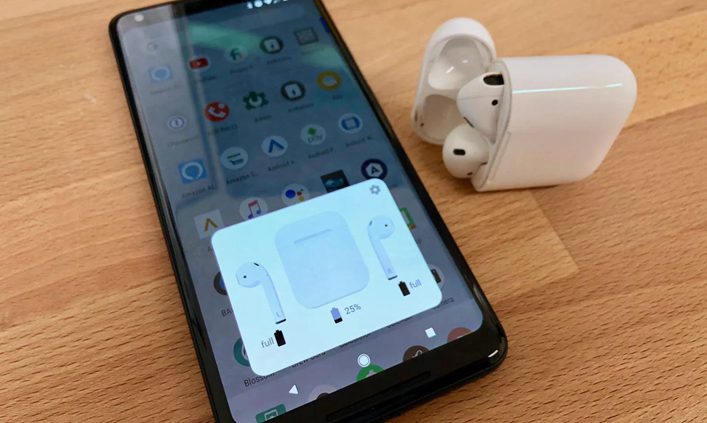 Connectivity and Audio Latency
As for the connection, both of the two pairs of TWS earbuds support automatic connection, which makes them easy and convenient for you to use. However, there is a difference in their connection and transmission rates. Due to the Kirin A1 chip which supports Bluetooth 5.1 technology, the transmission rate of Huawei FreeBuds 3 is faster and more stable than that of AirPods Pro. This also causes lower power consumption of FreeBuds 3. Instead, AirPods Pro still uses the Apple H1 chip for providing a fairly fast and stable connection. In connection, it's definite that FreeBuds 3 outperforms the AirPods Pro.
In addition, in terms of audio latency, it's also the FreeBuds 3 that wins. The overall latency of FreeBuds 3 is 190ms which is lower than that of the AirPods Pro 220ms. Thus, If you're a gaming enthusiast, FreeBuds 3 is probably the better choice.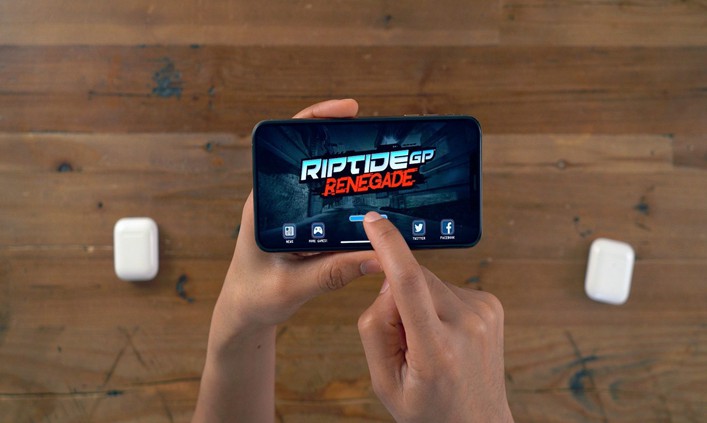 Price
Price is one of the most important factors affecting the buying decision. So let's compare the prices of these two pairs of TWS earbuds. From the official website of Apple, it can be easily noticed that the price of AirPods Pro is $249. As for Huawei's FreeBuds 3, the price is $199, which is competitively more affordable.
So Which Ones Are Better to Buy, AirPods Pro Or FreeBuds 3?
Now you already have a clear picture of the difference between Apple AirPods Pro and Huawei FreeBuds 3. The result is that the AirPods Pro seems to win in this fight due to the more powerful features. But actually, it's not always the case. After all, it's more expensive than FreeBuds 3. Moreover, these two pairs of TWS earbuds both have their merits. Whether they are the right ones for you greatly depends on your needs and budget.
If your smartphone is powered by Android OS, it's recommended that you choose to buy FreeBuds 3 because of the cheaper price and better compatibility. But if you're an iOS user, then AirPods Pro is absolutely the way to go. Although the price is slightly higher, you can make use of all the upgraded features.