The Complete Guide: Is a Docking Station Necessary?
By Carrie Tsai, Last Updated: November 08, 2019
You may have heard of docking station and converter and some of their usage, but those who has systematic knowledge of them remains minority. So we are going to equip you with that information.
The definition of docking station
Docking station, also called port replicator, is an external device designed for laptops. And as its name implies, its main function is to expand the connecting port. Through the interface and the slot, it can be connected to a variety of external devices including drives, keyboards, large screen displays, printers scanners and so on.ere we will introduce you two ways of logging in Wechat on PC and browser app on your computer. Have your mobile device handy, as you'll need it to sign in.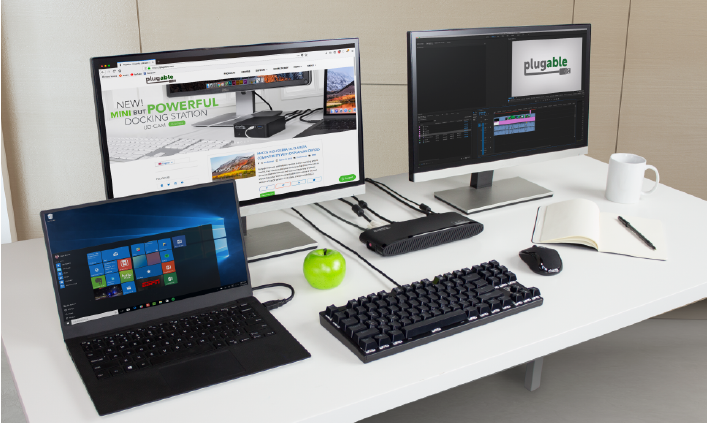 Computer docking station also has a wide range of applications, making up for the flaws of the thin and light notebooks, allowing users to enjoy the same convenience and comfort as the desktops in the office or at home. Moreover, it can make the most of the portability of notebooks.
With the development of digital products, the main components can be connected to other devices such as PCs, mobile phones, televisions, data transmission, charging and internet access.
It is obvious that, those who has more knowledge of the docking station will have more fun and convenience in daily live and study.
Different types of docking stations
They can be divided into four categories according to varying functions.
The first is USB Type-C connecting to video and according to the video interface classification, which can be divided into HDMI, VGA, DVI, DP and so on.
Another is the USB Type-C to network card, which can be classified into Gigabit network card, 100M, 2.5 G and 5G ones.
The last is the USB Type-C transferring to PD charging and according to the power classification, including 100W(20V 5A), 60W(20V 3A) and so on.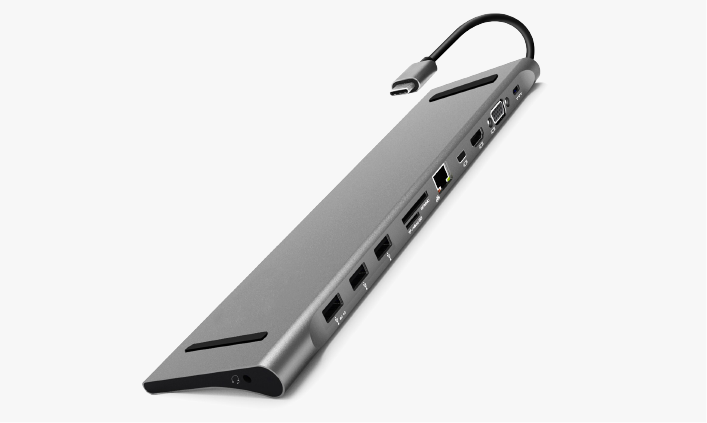 The docking stations introduced by manufactures, however, own a variety of interfaces, which is simply a mix. The general match is four-in-one, five-in-one, six-in-one, seven-in-one, etc., and the product will be more abundant depending on requirements.
The way to pick the most suitable docking station
With the popularity of the MacBook Pro, Type-C multi-function docking station has become very common. As we have mentioned above, there are seven or more ports in one laptop dock, which covers functions including charging, audio, USB and so on. And the multiple interfaces can be used at the same time without affecting each other.
Some ports used in daily office
The main function of the Type-C charging port is to supply power to the computer, but it should be noted that it can not support the PD fast charging. When selecting docking station, please remember to check whether the charging port supports the fast charging protocol.
HDMI and VGA interfaces can be connected to the large screen for conference use, but it must be matched with the corresponding cable in order to project to the screen.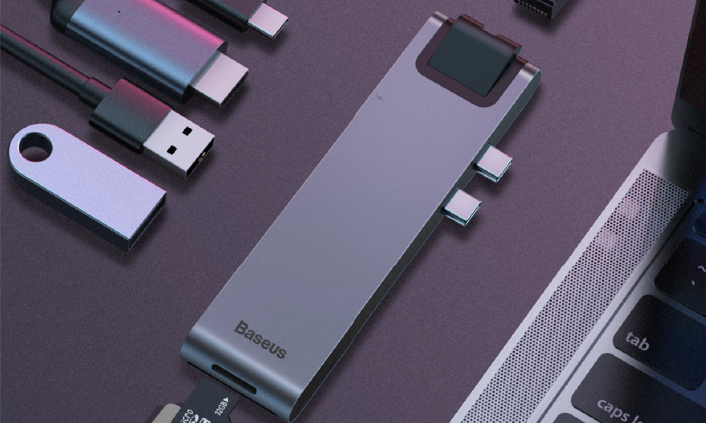 SD/TF card interface can solve the problem of MacBook without card slot reader. USB 3.0 interface mainly meet the need to transfer data between U disk and mobile hard disk, it can also connect mouse and keyboard.
Therefore, it is advisable to choose a multi-port which can realize many functions since only one can basically meet complex office needs.
Choose the one with faster transmission speed
The snail-like transmission speed is annoying, especially when more functions are added. So it is important to check the interface of the card reader.
The card reading speed of USB 3.0 is faster that that of USB 2.0. When choosing a docking station, it is preferred to select the USB 3.0 interface.
It can be observed from the appearance since the middle plastic piece of the USB 3.0 interface is blue while the USB 2.0 is black or white. In theory, the USB2.0 transmission rate is 480Mbps, equivalent to 60MB/s, while the speed of the USBB 3.0 can reach to 5.0 Gbps, which is 625MB/s.
The right interface can do more with less
What we should also pay attention to is that some charging interface do support fast charging protocol while some just for general charging. So you should consider your own needs when purchasing. Those which support 100W charging will fully charge MacBook in 1-1.5 hours.
In addition, the HDMI extension function can achieve 4K signal output while some VGA ports only support 1080 HD video output.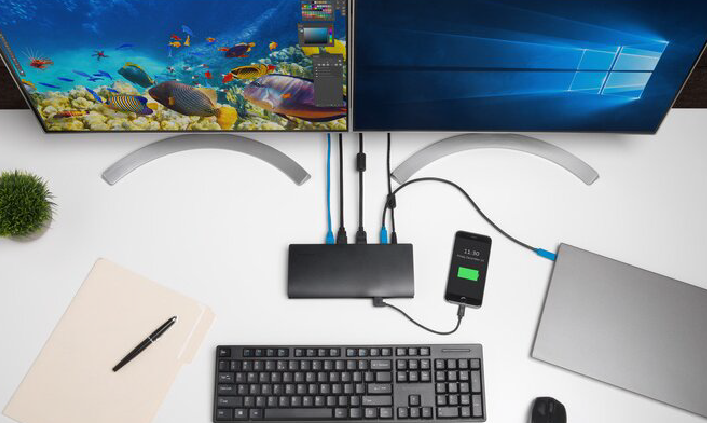 Good appearance with no overheating
At present, the most used in the market is aluminum alloy+ABS material and body made of all aluminum alloy since it is more wear-resistant and has a better texture. Moreover, it is easier for that kind of material to conduct internal heat to the surface in order to accelerate heat dissipation.
If each function of the docking station has a separate chip, when multiple functions are running at the same time, stable and smooth transmission speed can still be maintained.
With its lightweight body and portability, the docking station has solved many problems of notebook expansion and won the hearts of many consumers. It is believed that there will be more peripherals derived from the Type-C interface in the coming days.