What are the Health and Security Issues of Smartwatches and How to Deal With Them?
By Carrie Tsai, Last Updated: December 04, 2019
In the so-called technologically driven world nowadays, it is unquestionable that we humans do benefit quite a lot from many aspects of new technology. When it comes to smartwatch, there are a great number of profits we have been gaining from it such as great convenience, timeliness, efficiency and interactivity. However, recently more and more people wonder if smartwatch, bluetooth watch and other wearables are safe to wear. Some even reclaim that there are risks of wearable technology. It is a pity to say that there are both health and security concerns led by smartwatches. Nevertheless, there are methods to fix them. Keep reading to find the answer.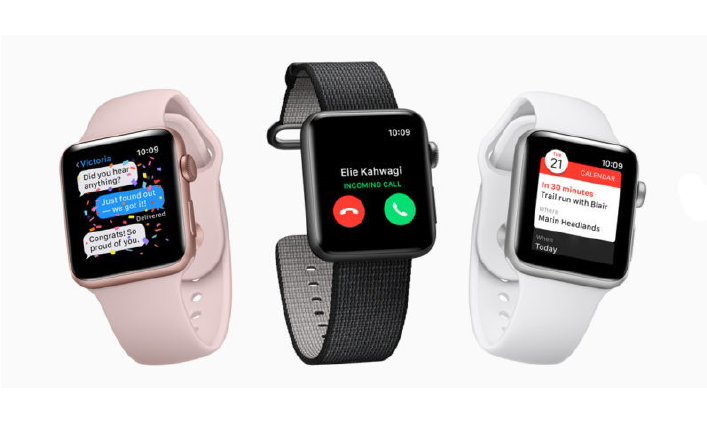 Contents:
Part1 Brief Introduction of Smartwatch
Part2 What are the Health Issues of Smartwatches and How to Deal With Them?
Part3 What are the Security Issues of Smartwatches and How to Deal With Them?
Part1 Brief Introduction of Smartwatch
Before moving onto the next part to the disadvantages and the harmful effects of smartwatch, here are some common sense about smartwatch for you.
A smartwatch or smart watch is a computerized wristwatch with functionality enhanced beyond timekeeping, often with features comparable to a PDA such as notifications, voice calls, music playing, game playing, accurate GPS positioning, fitness tracking, heart rate monitoring and paying etc.. To be brief, smartwatch is an extension of smartphone which allows you to decide what information you need to pay attention to without having to unplug your phone.
The Category of Smartwatch
As to the category of smartwatch, it can be on the whole divided by the paticularity of users and the speciality of features and functions.
* Divided by users
Smartwatches for Kids
Today, watches are more than just a timepiece. Kids smartwatches which are prevailing fast forward today are used for parents to stay connected with their children for safety reasons, set alarms without having to monitor their children all the time and even help their children form healthy habits. That is, smartwatches for kids owns the characteristics of multiple positioning, two-way calls, SOS help, remote monitoring, intelligent loss prevention, historical track, electronic fence, pedometer, love reward which can give children a healthy and safe life and in turn parents can rest assured.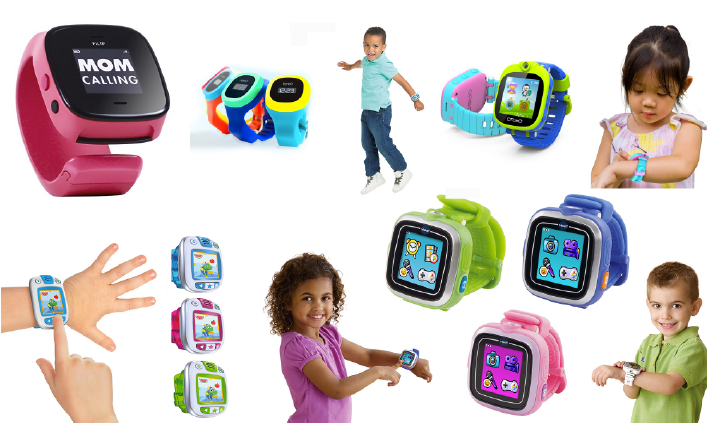 Smartwatches for Adults
Adults smart watches are expressly designed for adults who have been confidentially pursuing fashion and the mainstream. Adults who utilize smartwatches always believe how reliable smart watches are. They enjoy every merit and function smartwatches give like phone calls, messages sending and receiving, sleep and heart rate monitoring, sitting reminding, fitness tracking, remote photographing, music playing, video watching and other functions.
Smartwatches for the Elderly
While more and more functions jammed into wristwatches, it seems that companies developing smart watches are sparing no effort to bring features and functions that are helpful for the elderly. These functions provides a protective umbrella for the health and safety of the elderly including GPS positioning, family call, emergency call, heart rate monitoring, long-sitting reminder, and medication reminder.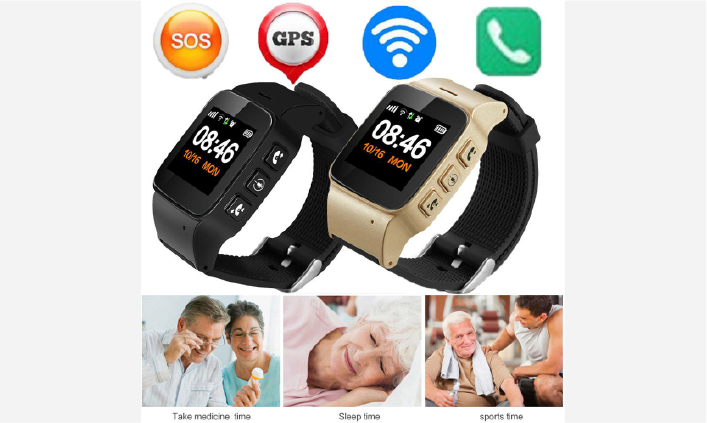 * Divided by features and functions
Sport Smartwatch
Sports smartwatches are specially designed for users who are obsessed with sports activities and exercise. They own the features of heart rate monitoring, fitness tracking, GPS positioning, waterproof structure, feature-packed timepiece, music playing and so on. It is important and necessary to find the best sports smartwatch which is suitable for the type of activity you do and can fit your workout.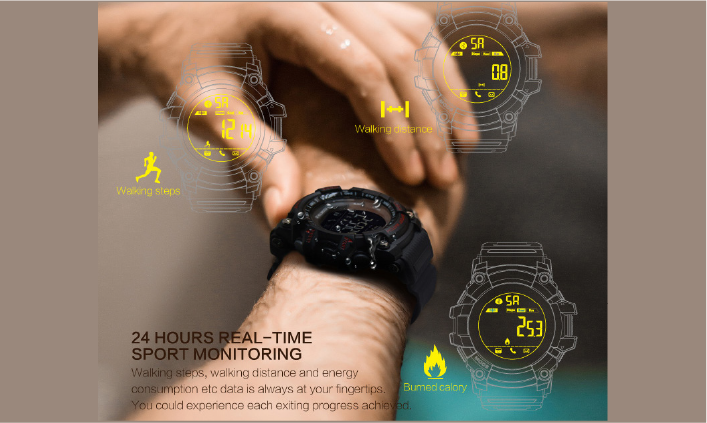 Waterproof Smartwatch
Whether a smartwatch is waterproof or not is not very pressing for every users. However, it is still one of the most important factors which has effect on people's purchasing intention towards a smart watch. For example, the lack of waterproof function has been one of the top 10 reasons why not to buy a Samsung Galaxy Gear Smartwatch for smartwatch users. The level of waterproof feature of smartwatches depends on their water resistance classification that lies in what atmospheric pressures they can resist.
Part2 What are the Health Issues of Smartwatches and How to Deal With Them?
Is bluetooth watch safe to wear? Are aluminum watches safe? Can smartwatches cause wrist pain? Does analog watches emit radiation? Does Apple watch emit radiation?Do Apple products cause cancer? Do Fitbits give off radiation and even cause cancer?
Now, let's take a look at the health concerns and side effects around smartwatches.
EMF Radiation
In the growing of information and technology nowadays, the increased emission of radiation by mobile devices has become a topic of concern. When it comes to smartwatch, users are worrying if the radiation exposed by smart watches like Apple watch, Fitbits, Pebble, Android watch will cause any significant harm to body or even cause cancer.
Now let's have a clear picture of what is the radiation smartwatches and other mobile devices emit first.
The radiation exposed by smartwatches and other mobile devices are called EMF radiation. EMF(Electromagnetic Field) radiation is a byproduct of an electrical current. The electromagnetic spectrum shows the spectrum of emissions released by this field. It can emit radiation including lonizing waves, gamma rays, nuclear energy, X-Rays, and even some extreme UV Rays. These radiations can constantly cause damage to our body.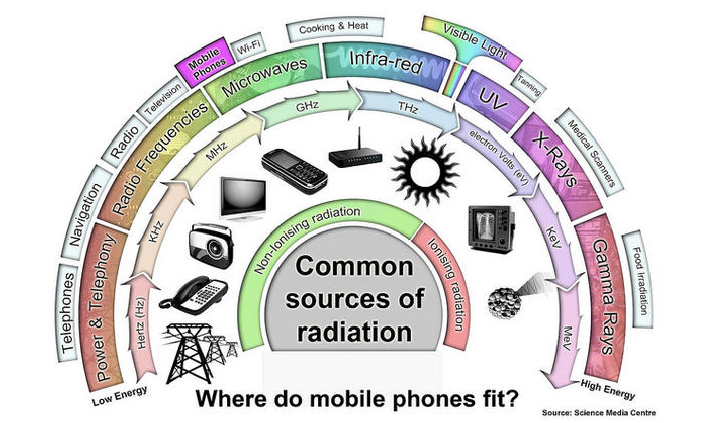 Can smartwatches cause cancer?
Do Apple watches and even all Apple products cause cancer? Do Andriod watches cause cancer? Do Fitbits cause cancer? Can smartwatch cause cancer? The answer is still debatable. A smart watches indeed owns the ability to cause cancer in the long term. However, there is no suggestion for you to stop using smart watches because it can be determined that the radiation given off by smart watches are not approximately enough to cause cancer or any other severe body harm. That is, Apple watch doesn't cause cancer. So do other smart watches. By the way, if you're an enthusiast of smart watches but still confused about the radiation they emitted, you can know more such as Apple watch series 2/3/4 radiation, Apple watch radiation in 2018, Fitbit radiation, Pebble radiation and so on.
Are Apple watches safe to wear while pregnant?
Although lots of survey have shown that there is no significant harm of the radiation emitted by smartwatches to human's body, pregnant women as a special group need to be more cautious while using smart watches. As is indicated by a great number of survey, children are proved to be less tolerant of high levels of radiation than adults. That is, women who are pregnant should take great caution while wearing Apple watch and any other smartwatches.
Apart from EMF radiation, there are some side effects on smart watches
Nausea and Headaches: If one wears a smart watch quite often, it may lead to nausea and headaches which make his/her sick.
Body Dysmorphia: The constant use of smartwatches can attribute to overeating and eating disorders due to people sharing and one's constant checking of the notifications from the watch.
Sleep Disorder and Memory Issues: Wearing a smartwatch all day long or even a lot of days can be a huge reason for insomnia which can lead to memory decay, body imbalance, less productivity and other worse problems.
Distractions: Excess use of Smartwatch may lead to distractions since smartwatches on the wrist make it easier for people to promptly access information. One can be easy to be distracted by notifications while working.
Tips to Overcome the Harmful Effects of Smartwatches on Health
If the usage of smartwatches begins to take a toll on your personal and social life, you should find ways to deal with it. The following are the top tips for you to overcome the harmful effects of smartwatches on health.
* Use Apple watch radiation blocker: An Apple watch radiation blocker can help protect you from the electromagnetic radiation emitted by your Apple Watch. Besides, it also prevents you from the detrimental effects of other EMF's around you.
* Proper or limit use: Try not to use your smartwatch too often. You should try to remove your smartwatch if possible. For instance, you can use the perfect time like weekend, shower time, home time to reduce the wear time of your smartwatch.
* Take it off before sleep: Get off your smartwatch before sleep can avoid sleep disruption.
* Don't be dependent on the smartwatch: GKeep your dependency under control and learn not to be dependent on your smartwatch.
* Turn off to avoid distractions: Turn off"here means set up Airplane mode for your smartwatch which can cut the connection between your watch and your phone. This can make you get rid of all the unnecessary notifications and calls which may distract your work and life.
Part3 What are the Security Issues of Smartwatches and How to Deal With Them?
Apart from the health issues, the security issues of smartwatches are also gaining much attention in the current world. There are two main aspects of security issues of smart watches: smartwatch privacy concerns and smartwatch safety issues.
Security Issues of Smartwatches
1. Smartwatch Privacy Concerns
Is paying with a smartwatch safe? Does personal data be exposed so easily? Are there any security features while paying with smart watches?
Some have privacy concerns around smartwatches on the grounds that smart watches contain sensitive data and don't have proper security features. Users always do not want their privacy information to be divulged while smartwatch companies are trying to collect and use privacy data on the wearable devices of their customers. Smartwatch vendor can collect a great number of personal data and information from smartwatch users which can be sold to a data management platform. When smartwatch companies are building up data, they are creating privacy risks for millions of users.
2. Safety Issues
Recently, smart watches has been one of the safety hazards in traffic for that they can distract drivers who are driving. Indeed, if drivers pay too much attention to the smartwatches rather than driving, they can be easily distracted and cause accidents.
Tips to Deal With Security Issues of Smartwatches
For government: It is suggested that governments should be able to have a role in taking actions to deal with privacy risks. For example, governments can regulate that if smartwatch companies and vendors collect and use personal data of users without permission, there will be significant fines for these companies.
For smartwatch vendors: Smartwatch vendors should spare no effort to protect the privacy of their users. For example, they can secure smartwatches with security features like passcodes and remote wiping possibilities.
For individuals
* Users Beware: While using smartwatches, users should take cautions about their personal data and privacy information to avoid being exposed.
* Be responsible and careful while driving: While driving, one need to be responsible for his or her own life. That is, in traffic, one should pay much attention to driving instead of smartwatches.
In the world today, wearable technology brings us humans innumerable benefits and convenience. However, overuse or improper use of these wearable devices also do harm to our health and cause security issues. Don't be to dependent on smartwatches and any other mobile devices. Using them properly will make your life more healthy and safe. That's all for today's topic.